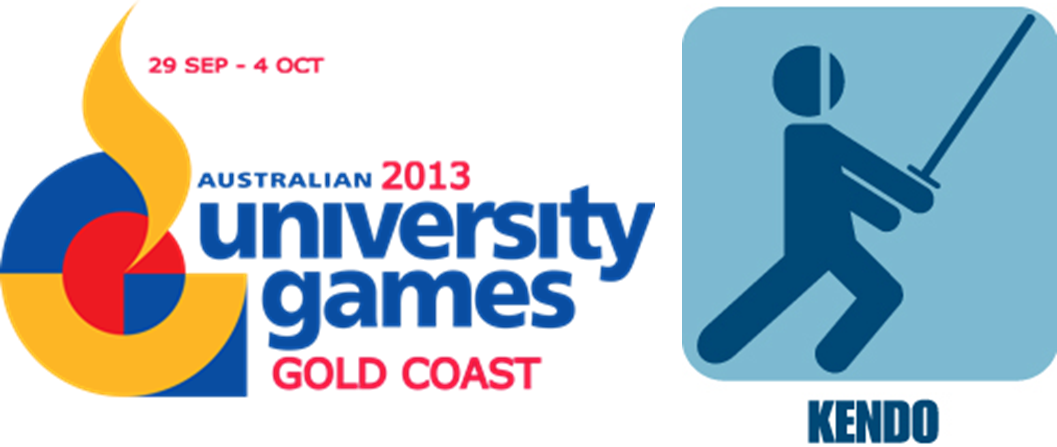 It is that time of the year again – University games season! The Australian University Games is the largest student level sporting competition in the entire nation, and this year 32 different sports had their own competition – of course, Kendo being one of them. This year the USYD Kendo Club sent 13 of our student members to the Gold Coast to compete with other clubs from all around Australia.
The competition spanned over two days 28th and 29th of September, and journey began on the Friday afternoon taking all our shinais and bogu 850 km up the eastern coast. After preparing our gear we entered the first day of competition – the individual divisions.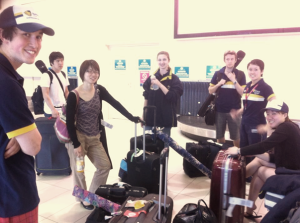 (Left) Pumped and ready to go!

(Countless) Team meetings and prepared lunches – essential for a good Uni-games!
The day started off with a bronze medal scored by our Kim Avina in the Kyu individual tournament. A mighty 3rd place out of 56 kyu grade players – congratulations! Our club's strength really showed in the next event – the women's tournament which lead to a finals between our two girls Ioana Levins and Julie Tran. To put into context, at last year's Uni games at Adelaide, this was the exact same match up where Ioana took gold. This year it was looking to be another tough match with it going into an extra-time knock out, however this year it was Julie who took the final point, and scoring gold. Nice work to both girls!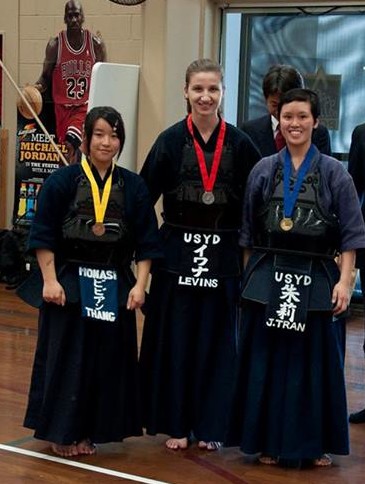 The Dan individuals was the last division of the day and our two members Tomonori Hu and Kelvin Tran missed out on the gold ever so slightly and securing Bronze and Silver respectively.
In the second day we had our team event assisted by our senior instructors Walter Chung, Nobuko Fujito and Kelvin Tran. The kyu division fought well however came up against the toughest opponent – UTS, and settled for a bronze medal. The Open teams went all the way strongly to the finals meeting UTS once again, however the gold could not be secured and we had settled for runner ups. Congratulations to our members who fought well, better luck next time, and hats off to UTS for their excellent results for this day.
On top of the ranking medals there is a prestigious award known as the Green and Gold awards which are offered to players who are deemed to play at a high level whilst being a great sport and worthy of representing Australia at the international university games – if there was such a thing for Kendo. Ten awards were given across approximately ten universities, however our USYD Club bagged five (half) of them – going to Julie Tran, Ioana Levins, Kim Avina, Kelvin Tran and Tomonori Hu. Thank you to all who displayed excellent Kendo and showed the USYD-Kendo-branded way of fighting!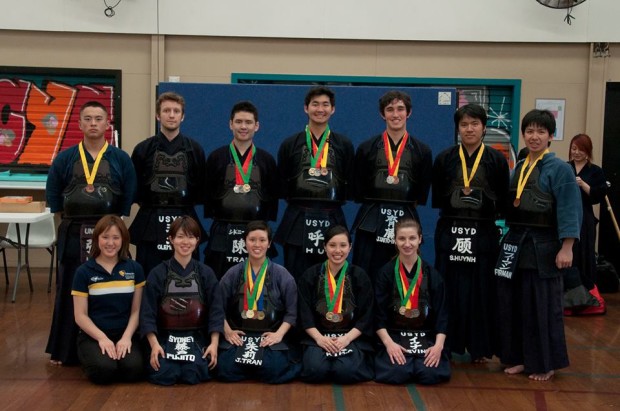 The weekend ended with medals won and matches lost. All of our students did well to represent the University of Sydney at a nation wide competition – congratulations to everybody, a fantastic effort. Let's continue to train, next year's Uni-games will be at here in Sydney, we need to defend the home ground!
A summary of the results:
Womens individuals:
1st – Julie Tran
2nd – Iggz Levins
Kyu Individuals:
3rd Place – Kim Avina
Dan individuals:
2nd – Kelvin Tran
3rd – Tom Hu
Kyu team: 
3rd place – USyd
Dan Team:
2nd – USyd
Green and Gold awards
Julie Tran, Ioana Levins, Kim Avina, Kelvin Tran, Tomonori Hu