The end of another year… and welcoming a new one!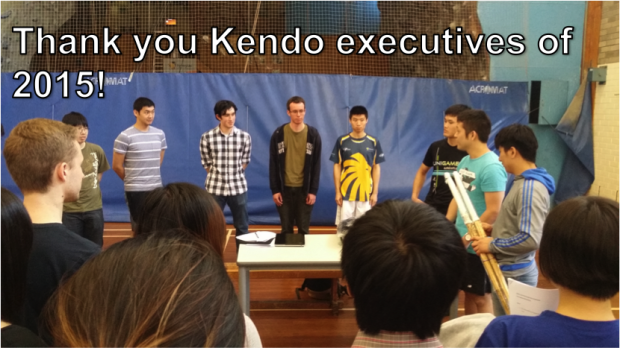 The University of Sydney Kendo Club's Annual General Meeting was held on the 25th of October.  To ensure a continued success in running this club it is necessary to gather formally and reflect on our previous 12 months. We thank all club members for attending our most important event which decides the club's future.  

We express our gratitude to the executive committee members for the last 12 months:
President: Jordan Saito-Patch
Secretary: Young Chen
Treasurer: Tomonori Hu
Media and Events: Rafael Alexander
Equipment officer: Vincent Firman
Thank you so much for your (completely voluntary) commitment to the club.  The success of the club is due to the hard working of the above people. The torch is passed on to the new executive committee of 2015-2016 to:
President: Young Chen
Vice Presidents: Vincent Firman and Kai Kikuchi
Secretary: Rachel Ma
Treasurer: Anna Lu
Media and Events: Tomonori Hu
Equipment officer: Alex Greenhalgh
We look forward to working for the club!
–> Post AGM celebrations at our club BBQ!