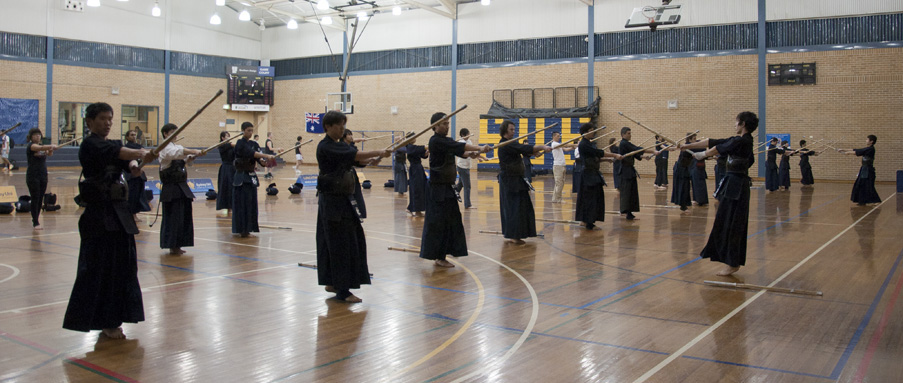 USYD Kendo Club always welcomes members who possess a keen interest in Kendo.
So what is Kendo? (It is much harder to define so please do not quote us here!)
Kendo is a martial art and a traditional culture from Japan. Deriving from the samurai/bushi it consists of education, art, fighting spirit, history and many others which can be pursued all throughout one's life. Being an ancient Japanese traditional culture, Kendo is a way of living to strive and enhance one's lifestyle, in order to become a better citizen of the world.
Our teaching focuses on three components mentioned above:
Education
It is important that we are continually learning about ourselves and each other through our lives. There are many lessons that need to be learnt outside of the classroom. In Kendo we study our lifestyles, attitude, and social skills. This is done through the etiquettes of Kendo, respect for one another, and cultural virtues.
Fighting Spirit
As a traditional Japanese martial art, we train physically and often compete, which can be hard at times. There are multiple times in one's life where they must fight (not physically!) for themselves, and at those times the most important thing to have is an unwavering strong spirit. However the "fight" is not aimed to overcome our opponents, but to fight the weakness in ourselves. 
Art
Kendo is also an art form, not only must we overcome ourselves, it must be done beautifully in the correct way. This component separates Kendo from being a sport, where the focus is on the result. Both achieving the desired result whilst practicing in the correct manner, is when we first accept it as success in Kendo. This involves studying Japanese idealism in art, and history, such as physical posture and mental attitude.
Kendo as a way of life 
In training we always strive to combine all three of these aspects, and try to make Kendo a way of life for us (budo).

Although we believe in correct and rigorous training in Kendo, our club is one big family and we all work together to be in harmony. We are also social club with monthly events such as cocktail parties, BBQs and after training dinners.