The 10th of October saw the 20th Dae Han Moo Do Kwan (DHMDK) tournament at the Burwood PCYC. Our USYD Kendo Club sent 25 of our members to compete for the top place.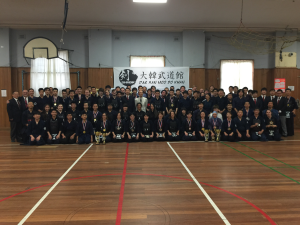 This tournament is the first formal competition experience for our 3 junior members, Fiona, Sasha and Nathan. Congratulations! All of them have demonstrated awesome kendo fighting spirit in their own shiai.
Beginning early at 8:30 am, the competition began with Men's Kyu Individuals division. Our competitors fought very hard to win the gold.Unluckily, Jordan and Victor didn't make themselves through to the final ended with sharing equal 3rd. We will do better next year.
In Women's Kyu Individuals division, the finalists are the same as the ones in Australian University Games last month. Unluckily, Minty didn't get a consecutive victory on Bernadette this time, however we're always proud of your passion and strong fighting spirit in competition.
In Women's Dan Individuals division, Nobuko Fujito fought strong and winning 3rd place.
That's not all from our girls, our club sent two teams in the Women's Open Team division, USYD1 formed by Nobuko, Eri and Mory won silver in the competition.
The men's side did not fall behind, Yoshito Takeuchi won the 2nd place and Kelvin shared equal 3rd in the competition.
USYD Kyu team made improvement compared to the performances in the previous years. Two USYD teams met in the final, bringing home gold and silver medals. Good effort teams!
The Dan team won the 3rd place in the competition.
The competition was a long and tiring day and our results were superb – however there is still room for improvement. All club members set a great example for the up coming summer training – please use this comp for reflection and inspiration for the next few months!