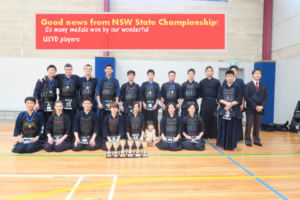 On last weekend (3-4th December 4, 2016, Saturday and Sunday), 2016 NSW State Championship was held in Sydney University Lidcombe Campus. Competitions and Dan grading held in both Saturday and Sunday are the greatest events in NSW Kendo society. During these events, our club sent our highest level players join in the competition and get good results. In the matches, our club members do their best and the achievement of their hard training and their passion in the court. In the competition, our club gets gold in both boys and girls' kyu level.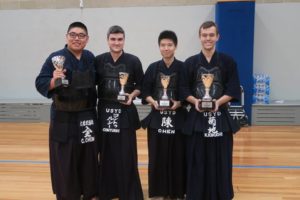 USYD get all top three in the Men Kyu individuals competition! Well done boys!
The results for 2016 State Championship are:
Anna Lu—1st place in Women Kyu individuals (gold)
Chihiro Ichinose—3rd place in women Kyu individuals
Kai Kikuchi—1st place in Men Kyu individuals (gold)
Yang Chen—2nd place in Men Kyu individuals
Ernani Contursi—3rd place in Men Kyu individuals
Tomonori Hu—3rd place in Men Dan individuals
USYD Kyu team—2nd place in Men Kyu team match
Nobuko Fujito—2nd place in Kendo Kata match
Kelvin Tran—2nd place in Kendo Kata match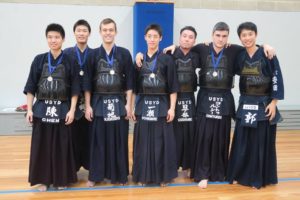 USYD boys also get the 2nd place in Men's Kyu team match by they hard work and excellent performance.
Besides, in 3rd of December (Saturday), Dan grading of NSW was held after the competition. Four of our members attended the test and all of them pasted. We congratulate to them and cheer for our club to have more high level Kendo players.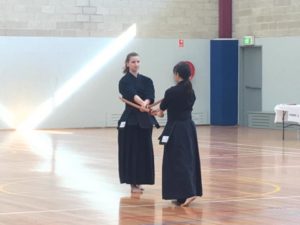 Kata is an important part in Dan grading, it test the players of their understanding on Kendo. Iggz and Chihiro have spent a long time on practicing on it.