On the 21-22nd of October the World Combat Games will be held in St. Petersburg (Russia). World Combat Games is an international sporting event which promotes values of self-control, determination and technical mastery, the Martial Arts and Combat Sports integrate elements of culture, wisdom, friendship to create an elite sports competition – the Art of Combat. It spans across 15 different sporting and martial arts events – one of which is Kendo.
The best of athletes and martial artists from the entire world compete at this event. Our USYD Kendo club is extremely proud to announce that our member, Kelvin Tran (Student: University of Sydney) was selected  by the Australian Kendo Renmei to be a highly valuable player who is worthy of representing the entire nation at these games (pictured below, right).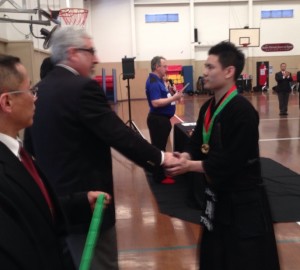 Kelvin will be playing Takenouchi (Japan) in the first round, one of Japan's greatest players, let's all wish  him the best! Further details can be found on the World Combat Games website here.
Faito Kelvin Tran!!