On the 5th and 12th of November, we held the third internal competition of the year, men's Dan division on the 5th and the rest groups (men's Kyu and women's open) on the 12th. Since the last internal competition was nearly 2 months ago, this event became a good opportunity for the competitors to check themselves thoroughly in terms of skills and spirits, and training accordingly in the future.
我社第三次内部赛在本月5号和12号进行,5号举行的是男子组段级别赛,12号的是男子组新人赛以及女子组段、新人混合赛。由于距离上一次内部赛已经有差不多两个月了,这次比赛对于选手们来说是个很好的检查训练成果以及规划未来训练重点的机会。
Apart from self-checking, the event was also set so that members could better prepare for the NSW State Championship, which is scheduled on the 2
nd
and 3
rd
of December, in only 3 weeks. With the internal shiai event, as well as the training sessions to follow, all members will hope to see best conditions from our selected members for the state-level competition.
除了自我检查以外,选手们通过这次比赛也能更好地为三周之后,在十二月二号和三号举行的新州锦标赛做准备。经过这次比赛还有之后的训练,希望最终参加锦标赛的选手们能有最出色的比赛状态。
Even though not everyone can participate the state championship, it is still important to get familiar with the flow of competition, including court & colour allocation, judgement, manners, and so on. Regarding these points, internal competitions have given great opportunities for the members to appreciate.
虽然不是所有人能参加锦标赛,但是一场正式比赛的流程和规则,包括场地设定,选手背后颜色的分配,裁判以及礼节对每个人而言都依然是很重要的。通过这场内部赛,选手们进一步熟悉了这些项目。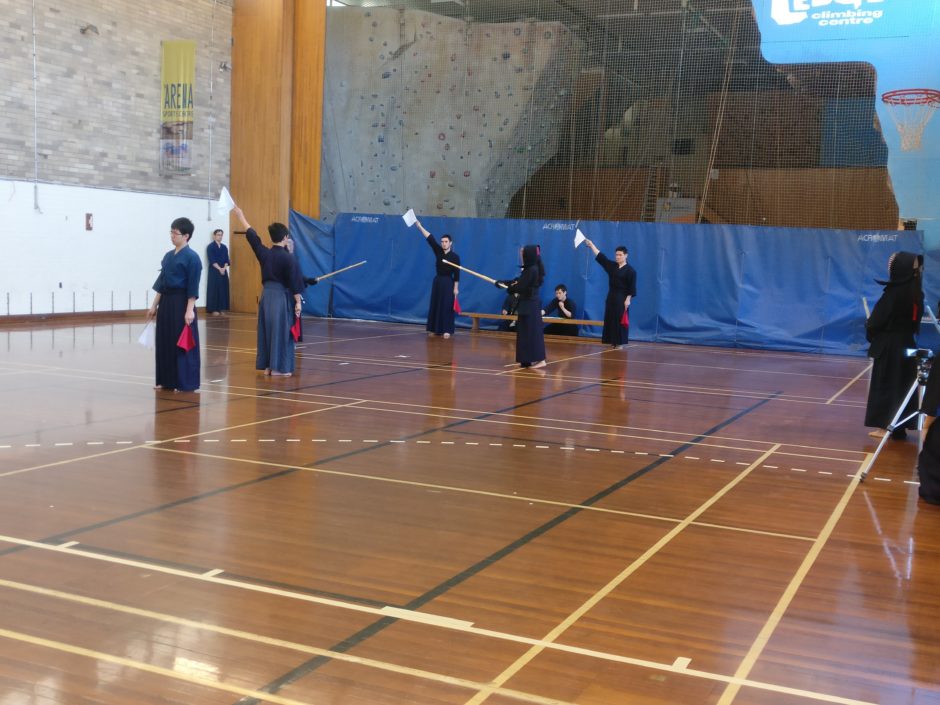 For example, learn effective hitting…
For all beginners, watching competition is always a good chance to learn something, too. We are happy to see many of them in the venue, watching the games with a lot of attention. We also greatly thank those who helped the event: filmed, changed straps for competitors…. Hope they could join the next internal competition as competitors.
对于未上甲和刚上甲的初学者而言,虽不是选手,但看比赛也是能学到东西的。我们很高兴看到在现场有很多初学者在认真观看一场场比赛。我们也很感谢那些在比赛进行中以各种方式给予帮助的初学者们,感谢他们记录每场比赛,帮选手们换颜色条,还做了很多别的事情。希望在下一次内部赛中,他们能以选手的身份参与。
Finally, special thank goes to our three coaches, Takayama sensei, Fujisawa sensei and Konishi sensei for organising and helping with this event. Thank the instructors and the Dan players too, who helped as referees for the games. Also, thank the people who helped as assistants, timing, noting down the result, and announcing about the competitors in each game.
最后,我们要特别感谢三位教练:高山教练、藤泽教练,还有小西教练。他们不光组织了这次比赛,还以裁判或者记录员的身份帮助了比赛顺利进行。同时,还要感谢每场比赛中作为记时员、计录员,和宣布选手入场和比赛结果的社员们。
For the results, Keshi Todo came to the first place in the men's Dan division; Takumi Ohashi topped the men's Kyu division, and the women's counterpart was Mory Zhao.
最终比赛结果,男子段组冠军:Keshi Todo; 男子新人组冠军:Takumi Ohashi; 女子组冠军Mory Zhao